Latest update - Oct 10, 2023

For those that have not heard,

April was diagnosed with ovarian cancer in March, she just got home from the hospital last Thursday after three surgeries and two weeks of hospital stay. Short one kidney and all the female bits, also cancer was removed from the bowel and diaphram. The good news is all the cancer was removed, and she is doing well. She will most likly be having oral chemo based on genetic testing of the tumors for targeted cancer therapy.
I will try to update this site more often, I know a lot of our dance community is very interested in her progress.


WEBSITE - We have moved billandapril.com to a new server however we had to do a RetroFit for now, not all pages will be working until step 2 is completed
Dance Lessons -
We are still on hold indefinitely due to covid19 rather be safe than catch this thing.
SOMETHING DIFFERENT - MIGRAINE HEADACHES -
I was watching the morning show this past week and listening to Dr. Jennifer Ashton talking about the causes for migraines, however she never mentions what we found to be the root causes of migraines in our lives, food.

May years ago April suffered from migraines, after a few years she discovered eating bacon two days in a row triggered a migraine. We developed a theory a chemical in her blood was reaching a high enough level to trigger the migraines, but what? Other foods we identified, hotdogs, kielbasa and other meat products, all contained sodium nitrite. We no longer by any products containing sodium nitrite, in fact after many decades of avoiding bacon, eating nitrite free bacon is back on the table. There has been a lot of studies in the past five years linking nitrite to migraines however it's not talked about much in the news, they seem more focused on meds.
Other causes we found were artificial sweeteners, just a breath mint would bring on a migraine in less than 30 minutes. And the one we still don't understand is Worcestershire sauce which will trigger a horrific migraine almost immediately, so any food containing Worcestershire sauce are avoided.
I personally don't have migraines, but I avoid these foods also, in fact I have a hard time understanding why nitrates / nitrite are used since many of the "Clean" meats have just as long of a shelf life, my concern is more around it being a possible carcinogen.
There is a lot more information today on the internet than we had in the 70's I hope people that suffer from migraines do their own research to avoid the causes.
- Bill
Happy Friday photo of us taken 8/13/21.
All is well with us!
We have been enjoying retirement and getting lots of excerise everyday. Still distancing our selfs from people, so I don't expect ro resume classes until late in 2021 or when we feel safe.

Look for an all new website coming this Spring, still in the works..
Photos from the March 23rd 2019 workshop, Columbia SC

Latest Choreography

Except For Us - 32count beginner dance, no restarts or tags - Jan 2017
Click for Dance Sheet
Something To Talk About - 32count improver dance, no restarts or tags - Jan 2016
Click for video
Click for Dance Sheet
April's Waltz - 24 count beginner waltz - Jan 2015
Click for video
Dance Sheet
PERCOLATIN' 2014 Style - 32 count Int dance, no restarts or tags! Teach Video
"Fire & Ice" Dec 2013 - 32 count high-beginner line dance.
Demo Video

"Shorty" Dec 2013 - 32 Count Intermediate line dance
"I'm Yours" Jan 2014 - 32 Count Improver, choreorgraphed with Amy Christian.

"Hall Of Fame" - Jan 2013
My special thanks to Will Craig for working with me to choreography a dance to Hall of Fame together.
Click Here for a StepSheet

"Never Ever" - Dec 2012 to the song by Taylor Swift, look for it being taught in the area soon! Click for the StepSheet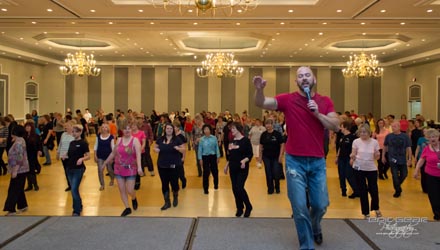 Photo from Big Bang Dance Classic Feb 2014 - Courtesy of Epic Gear Photography - www.epicgear-photography.com

Photo from Big Bang Dance Classic Feb 2014 - Courtesy of Epic Gear Photography - www.epicgear-photography.com



Teaching "Fine By Me" at Thoroughbreds as a fill in.


Photo from Big Bang Dance Classic Feb 2014 - Courtesy of Epic Gear Photography - www.epicgear-photography.com

Celebrating my choreography win for my new dance "Fine By Me" Video




Photo from Big Bang Dance Classic Feb 2015





On FaceBook? Check out the following dance groups:
Charlotte Area Line Dancers
South Carolina Line Dancers

Fun WCS Video - John Lindo at MadJam 2011


Dancing the Carolinas
We developed this website to provide information about dancing in the Charlotte North Carolina area, including upstate South Carolina, as well as a portal for staying in touch with family and friends.
We teach and dance different styles from country western to ballroom and currently offer line dance, swing (east & west), night club-2, two-step, choreographed couples lessons and we do private parties and events. You may notice after surfing this website that our couples dances are usually taught as programs and not long term running classes, this is because we're currently searching for a location to hold a weekly dance and lesson. You may also notice that we don't hold weekly classes during the summer months, this is because attendance falls off during the summer. However, this summer we have arranged dance "Field Trips" to different clubs and lessons between Columbia and Charlotte, each week we email our dancers the "Field Trip" for the week and so far we're having a great time with it.
As dance instructors we list information about our classes, as dancers we are happy to list dance events and classes being taught in our area. I enjoy posting local events because sharing information will lead us all to new dance opportunities and friends. To learn how to have your event posted please look under the "Local Events" menu pick.
A question that is often asked is "Do I need a partner?" for line dance the answer is no, most line dance classes that run weekly are designed for you to just show up and start learning. In our line dance classes we teach a new dance each week and review the dance from the previous week. We rotate between a few levels of dance so each week there will be a dance reviewed or taught that a beginner can learn. For couple's classes we try to pair up those that do not have a partner, please email us in advance of the class and we will work with you.
New Dancer?
If you're new to dancing or plan on attending a class please read the New-Bee page under "Our Classes"; there is a lot of good information on this page including information and links to footwear. I will also be updating this page very soon with additional information you need to know for dancing in clubs.
Fun Fun Fun
April and I really enjoy attending a dance or lesson we have never been to before, we have done this for ye
ars. The more instructors you take lessons from the better off you are; get out of your comfort zone and travel to other locations, you will quickly learn a variety of dances and make new friends.
Some groups take their dancing more serious than others, my most memorable times have been spent with dancers who like to have fun on the dance floor and making mistakes is part of the fun. So save the serious times for the private lessons or workshops and dance to have fun!


Dancing Tips
Quoted From Central Home - Dance Resources site

"Line dancing is a great way to work on body and foot technique. I still hear how many people can't stand line dancing and I think it is because they haven't tried it recently. No longer is it just t
o country music, line dancing is to every kind of music from swing to top 40 pop. Its fun and it teaches us coordination. This is how some dancers learn to syncopate for west coast swing or cha, its a chance to work on feet instead of lead and follow. Its great exercise and challenging to say the least. Line has come a long way in the past 10 years or so. It may not be the greatest thing to sit and watch but it sure is fun to participate. Give it a try, work on foot positions, foot placements, arm styling, Cuban motion etc and you will find it improves your couples dancing as well."